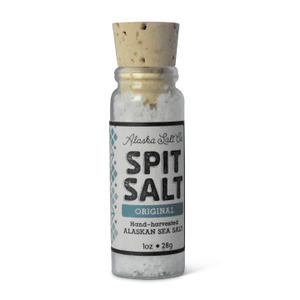 Alaska Salt Co.
Original Spit Salt 1 oz.
Regular price
$8.00
$0.00
Unit price
per
From Alaska Salt Co. in Homer, Alaska!
The Original, OG, Spit Salt. 1 oz bottle. 

Pinch and sprinkle Spit Salt over anything you are about to put in your mouth. This raw sea salt adds a little flavor upgrade to any dish. It was never bleached or chemically washed. It's just the plain ol' good stuff right out of the ocean (double filtered to remove whale poop). #whalepoop
Our Spit Salt varieties are now available in compostable tear-and-toss bags! Simply refill your empty jar or countertop cellar for easy pinching. (We recommend that our flavored salts stay stored in jars, not open on the counter in a cellar. But do what you want.) If you don't yet have a jar or are buying gifts, please get jars and vials! They're classy. But if you just need a refill, you can choose an eco-friendly bag instead. 
Spit, WHAT?!?! Homer is a quaint little fishing town on the southern coast of Alaska and is best known for its geographical landmark, THE HOMER SPIT. It's a badass land piece that stretches 4.5 miles straight out into the ocean. The salt in this jar was harvested right from the Spit. Hence the dorky name. #spitsalt
---