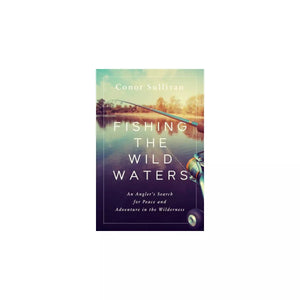 Frost and Fur
Fishing the Wild Waters
Regular price
$26.00
$0.00
Unit price
per
From the azure waters of Hawaii to the pristine streams in Alaska to the craggy New England coast, a devoted angler reveals the agony and ectasy of fishing.
Fishing the Wild Waters 
invites us to traverse America and visit three distant and distinct dream destinations for any serious angler—and anyone who aspires to someday become one.  Sullivan's marvelous debut illuminates the often profound nature of fishing as a vehicle that connects those who practice it with reverence to a world beyond the one humans created.

As we travel along with Sullivan, he reveals what goes into the pursuit of select fish in the region with humor and personal stories as well as deep knowledge. Hawaii, Alaska and New England are some of the last frontiers of fishing in America. They are full of danger, big fish, and extraordinary adventure. To fish these places is to reach back and stand alongside the First Nations of fishermen—our ancestors who lived there for thousands of years before us—as well as those early Americans who built this country using species like cod as their currency.

These cultural and fishing outposts will tell us something if we can just be quiet and listen. To hear that message requires an intrinsic respect for these ancient fishing grounds and our connection to them. This mindset is in lock-step with a growing movement of anglers who fish these wildest of waters as a way to turn down the noise of modern living and tune into their fundamental, hands-on relationship with the sea, finding not only the solace, but the sustenance the fish provides to those who take the time to learn its lessons. Plus, filling a freezer with the world's healthiest protein just feels right.

By turns funny, thrilling, and lyric, 
Fishing the Wild Waters 
celebrates the these special places where each fisherman can pull back the curtain, connect to the sea, and gaze into their own soul – the soul of a fisherman.
---