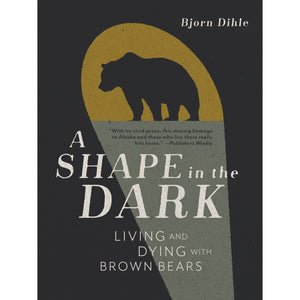 Mountaineers Books
A Shape in the Dark
Regular price
$17.95
$0.00
Unit price
per
From Mountaineers Books:
2021 Banff Mountain Book Award finalist in Mountain Environment and Natural History 2021 Foreword INDIES Book of the Year Awards Silver Winner in Nature
In "A Shape in the Dark", wilderness guide and lifelong Alaskan Bjorn Dihle weaves personal experience with historical and contemporary accounts to explore the world of brown bears--from encounters with the Lewis and Clark Expedition, frightening attacks including the famed death of Timothy Treadwell, the controversies related to bear hunting, the animal's place in native cultures, and the impacts on the species from habitat degradation and climate change. Much more than a report on human-bear interactions, this compelling story intimately explores our relationship with one of the world's most powerful predators.
Writer and wilderness guild Bjorn Dihle is a contributing editor for Alaska Magazine and Hunt Alaska Magazine and author of Haunted Inside Passage and Never Cry Halibut.  A lifelong resident of Southeast Alaska, he lives on Douglas Island with his family.
203 Pages
Made in the USA
---